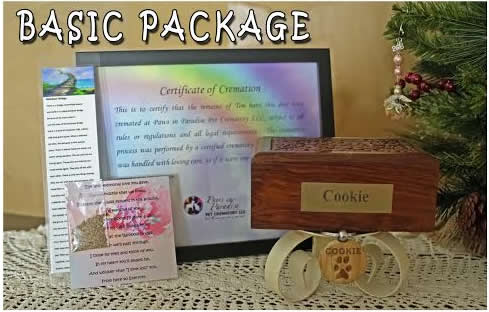 Pricing Pet Weight

1 LB/ 25 LB : $115
26 LB / 50 LB : $125
51 LB / 75 LB : $145
76 LB / 100+ LB : $165

BASIC Cremation Package

Hardwood Rosewood Urn With Name Plate
Angel Ornament
Pet Cremation Certificate
Texas Wildflower Memorial Seeds
Rainbow Bridge Bookmark
Your Pets Actual Paw Print Key Chain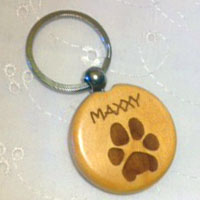 This is your pet's paw, laser engraved onto the key chain. ADDITIONAL key chain $10
Our Hope is that these custom made gifts will find comfort and healing to our grieving pet owners.
Memorial Cremation Package Includes:

Hardwood Rosewood Urn with Name Plate
Angel Ornament
Pet Cremation Certificate
Texas Wildflower Memorial Seeds
Rainbow Bridge Bookmark
Your Pets Actual Paw Print Key Chain
Your Pets Actual Paw Print Votive or Mirror
Photo Memorial with Pet Hair Snip

Pricing
Pet Weight

1 LB/ 25 LB : $145
26 LB / 50 LB : $155
51 LB / 75 LB : $175
76 LB / 100+ LB : $195
Our Hope is that these custom made gifts will find comfort and healing to our grieving pet owners. 
Extra Items Included in Memorial Cremation Package
| | | | | |
| --- | --- | --- | --- | --- |
| | | | | |
| Photo Memorial with Pet Hair Snip | | Actual Paw Print Votive | | 2 Actual Paw Print Key Chain |
Cremation
Pet Cremation is one way to keep the memories of our dear companions close to our hearts. Paws In Paradise Pet Crematory is dedicated to preserving special memories of your beloved companion(s). Pets have a mysterious way of working themselves into the hearts of people everywhere. These four-legged family members provide comfort, protection and love. They are the first ones to greet us in the morning and last ones we say good-night to. They make few demands, seldom nag and never judge. They become our best friends. Unfortunately, the joy of owning a pet goes hand in hand with the heartbreak of losing one. The loss of a pet results in the same grieving process as losing a family member. Our trained staffs at Paws in Paradise Pet Crematory are committed to treating your pet "as if it were one of our own". Our guiding principle is to pursue excellence; and conduct ourselves with integrity, always adhering to the highest ethical and moral standards. Our mission is to insure you, that when your pet is placed in our hands, its final journey will be treated with compassion, dignity and respect. We operate with the latest technology and equipment, with stringent controls in place to ensure your pet is appropriately tracked and monitored, and cremains are timely returned to your family within 7-10 business days. Please call 254-681-PAWS (7297) for assistance.
We do not do mass cremation
We Use Tracking Identification Acknowledgement and Identification Disc
1) Once a pickup has been scheduled, we identify and tag your pet with a cremation ID disc number.
2) A stainless steel cremation disc with the same ID number engraved on it remains with your pet
throughout the cremation process.
3) The cremains and disc are placed in your urn and sealed (unless specified).
4) A certificate of cremation bearing your pet's name and date of cremation is returned with your
cremains.
Transport Your Pet Directly to Our Pet Funeral Home Facility-2700 S. Fort Hood St. Killeen, TX 76542

Home Removal or Veterinary Clinic Pick-Up Cost
| | | | | |
| --- | --- | --- | --- | --- |
| Killeen $10 |   | Harker Heights $10 |   | Copperas Cove $10 |
| Lampasas $20 |   | Temple $15 |   | Round Rock  $35 |
| Georgetown $25 |   | Cedar Park $45 |   | Pflugerville $45 |
| Austin $55 |   | Taylor $45 |   | Hutto $45 |
| Belton $10 |   | Liberty Hill $45 |   | Salado $15 |
| Gatesville $20 |   | Burnet $45 |   | Leander $45 |
| Florence $20 |   |   |   |   |